Banned From Utopia Review Page 1 2 3 4
For upcoming tour

dates and
for ticket and event info click here:

Moo Weh! Zappa's Banned from Utopia
By SWEPnino | Posted: October 14, 2016

Zappa's band will be at The Scene

WITHOUT deviation from the norm, progress is not possible.
And the man who coined the famous phrase was certainly one to live by it: Frank Zappa was one of the 20th Century's most important composers.
His work of more than 80 albums is possibly the most voluminous and certainly the most versatile of the entire generation rock, although of course he also encompassed jazz, avant-garde, contemporary classical, orchestral, and doo wop.
Having left us in 1993, last year would have seen him reach 75 - the sort of age afforded to his peers such as Dylan, Jagger, or Bowie.
He was, of course, a phenomenal musician, who needed equally talented people around him.
And for this anniversary show a bunch of the most popular Zappa collaborators are back to turn the complexity of his compositions from syllabus material at the music academies into blistering experiences in the world's concert venues again.
They include lead singers held in high esteem by Zappa - Bobby Martin, who toured and performed on all Frank's tours from the time he auditioned with him, and who went on to work with Paul McCartney, Bette Midler and Stevie Nicks; and Ray White, who can be heard on albums You Are What You Is and The Torture Never Stops, amongst others.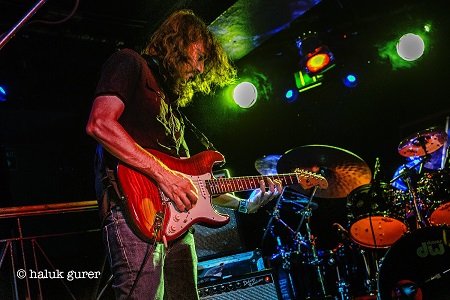 Also in the band is Tom Fowler, the man who opened Zappa's door for three of his brothers before he went on to become Ray Charles's last bass player for well over a decade. Albert Wing, Joel Taylor and Robbie Mangano also share the stage.
The name of course, references Zappa album "The Man From Utopia", and aims to please the connoisseurs and convert the curious into dedicated fans.
Having played on innumerable Mothers/Zappa albums, the musicians of this virtuoso fusion ensemble are performing classics from all eras, suffused with the authenticity of their deep Zappa history.
They can do that on stage still, and with the great man long gone, there's no way of getting closer to the original.
There are plenty out there aware of Zappa's contribution to music, pop culture and the fight for freedom of speech.
But for those who don't, this is a real opportunity to not only acknowledge his enormous legacy, but get to feel it in their bones.
Band Members

Albert Wing - Frank Zappa 1988 - tenor sax, soprano sax
Tom Fowler - Frank Zappa 1973-75, 1978 - bass guitar
Ray White - Frank Zappa 1976-84 - vocals, guitar
Robert (Bobby) Martin -Frank Zappa 1981-88 - vocals, keyboards, sax, French horn
Robbie Mangano - Grand Mothers of Invention - guitar, vocals
Joel Taylor - Drums Stanley Clarke, Allan Holdsworth